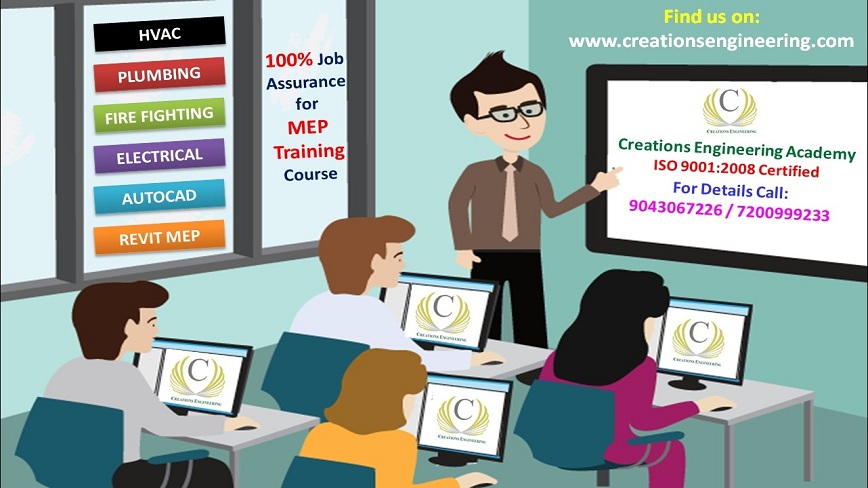 Creations Engineering Academy, is an ISO 9001:2008 QMS certified MEP training academy in Chennai,which is efficiently managed by ambitious youth and professional experience functioning together as its management team. We aspire to be the most admired and sought after training service provider of global standards, we aim to increase our growth by servicing the aspirations of the young and ambitious through sheer perseverance and efficient knowledge.
Creations Engineering is Sister company of Creations Engineering Academy. we are doing all Middle east, Singapore,Newzeland, USA and Indian Projects with reputed engineers.
If your Joined MEP Courses Like HVAC, Plumbing, Fire Fighting, Electrical System Design, Auto Cad and Revit MEP you will get 100% Project Oriented Core Skill.
OFFERED COURSES
Professional Design Courses
Building HVAC service and design
Building Plumbing system and design
Building Fire Fighting service and design
Building Electrical system and Design
Piping Engineering
Computer Aided Design And Drafting using AutoCAD Software
Building Information Modelling (BIM) using Revit MEP Software
Building Information Modelling (BIM) using AutoCAD MEP Software
​
Professional Drafting Courses
Building HVAC service Drafting
Building Plumbing system Drafting
Building Fire Fighting service Drafting
Building Electrical system Drafting
​
Post Graduate Diploma Design Courses
Building HVAC service and design
Building Plumbing system and design
Building Fire Fighting service and design
Building Electrical system and Design
Building Mechanical Design Course
Building Electro Mechanical Design Course
​Website:
Providing Training Courses and Design Services Chennai
HVAC Courses In Chennai | IN | Creations Engineering Academy
Branch
Manali and Mogapair West
Contact
Whatsapp / call – 9940467226